Starter Packages, Printers & Heat Presses
Whether you're looking to purchase a Starter Package or add on to your existing setup, we're confident you won't be dissapointed with the quality of our Printers and Flat Bed Heat Presses. We're also happy to help you mix and match your equipment to build your own unique kit!
Our Ultra Deep Heat Presses are suitable for use with various printing processes and have the flexibility to accomodate some of our thicker sublimation printable products, such as ChromaLuxe MDF Photo Panels.
With any printer you will receive our full catalogue of Product Templates and detailed Pressing Instructions. The Sawgrass range of printers are the industry's first and only fully integrated system designed specifically for sublimation.
Free training at our premises is available with any purchase of a Printer or a Starter Pack. For those unable to attend, our Technical Support staff can log in remotely to setup your new equipment.
Our Printers & Heat Presses come with manufacturer warranty, for further details please see our Warranty Terms.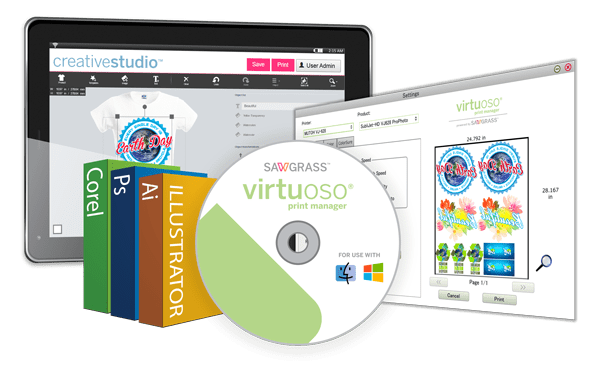 All of our Starter Packages come with access to Creative Studio & Sawgrass Print Manager RIP Software

Free Training & Continued
Technical Support


Full Catalogue
of Product Templates

Detailed Pressing
Instructions