We pride ourselves on quality and so should you!
We're a family run business which began operating from our mountain side family home in 1981. Our first step in to the personalisation industry began with printing systems capable of printing plates, which nowadays is pretty common but back then it revolutionalised personalised printing.
As time has moved on, Dye Sublimation was introduced and eventually started to develop in terms of printable items available on the market, therefore so did our business. To keep up with the demand for sublimation printing systems, we have moved premises three times! Each time increasing our storage space, eventually leaving us at our current residence in Mona Industrial Estate, Anglesey.
Our extensive time in this business has given us the expertise to put together systems and select substrates with which our customers can produce high quality, vibrant end products. We pride ourselves on quality and we can help you achieve this too. We're continuously expanding our wide range of printable products and equipment as this fast moving industry continues to gather pace.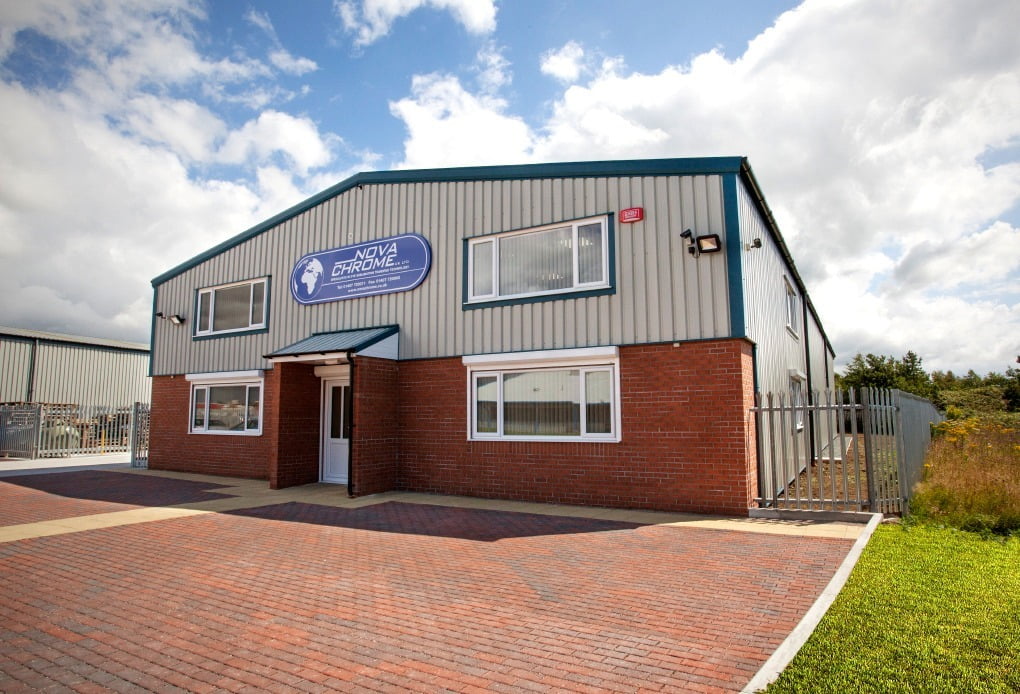 The build of our new premises at Mona Industrial Park, Anglesey.
Building a relationship with our customers is hugely important to us, also maintaining that relationship is a top priority.
Whether you're looking to start up or expand your existing business, we have the systems to get you up and running. Our staff are on hand to guide you along the way to make sure you're getting the most out of your investment. In-house technical support staff are available to contact either by phone or email.
We're dedicated to providing a helpful, friendly and efficient service and committed to giving each and every customer the personal attention they require. Some of our customers have been with us right from the start of our journey over thirty years ago, as our business has grown so has theirs.
Below you'll find a few testimonials from some customers old and new, each of whom have taken different steps into Dye Sublimation.
Year's experience in the personalised gift industry
I'm owner of a Pet Food and accessory Business. Deanos Pet Food. I came across Nova Chrome whilst researching personalised printing to add to my business model.
I have to say, Nova Chrome have been absolutely fantastic in terms of equipment and accessories , but above all, their Customer Service and support is absolutely top class.
Ian and I spent a full day together Nova Chrome, as he went through the printing processes , answered endless questions I had and totally supported me in setting up.
The support doesn't end when a sale is made, it simply continues for as long as you need it.
I could not ask for more, and would highly recommend this company to anyone starting out in the Sublimation printing field as well as those seasoned printers and creators, thank you guys.
Terry Quinn
Deano's Pet Food
NaturallyIrishCandles.com have been supplied with high quality Slates, mugs, clocks and money boxes for over two years.
We have also got our printers, papers and toners along with great technical support, answering any questions that we definitely had, even long after purchase.
Carly and the ladies on the phones are fantastic, know the products that we get, so ordering is so easy along with fast delivery.
Jane
Naturally Irish
Absolutely excellent customer service throughout, from purchasing my mug press & printer right through to any technical queries I have had.
I'm So pleased I bought from Nova Chrome. Thank you.
Mandy Hine
I have been using Nova Chrome for over 5 years now. Their service, products, advice and technical support is second to none. Products are very rarely out of stock, the sales team are very friendly and helpful, nothing is too much trouble. Prices are very competitive and the products are of very good quality. Being an authorised Chromaluxe distributor they stock a large amount of sizes and finishes of this excellent product.
I have purchased all of my hardware from them purely because the aftercare is superb, the technical team (led by Ian) is excellent. Orders are dispatched quickly and well packed by the warehouse team and arrive normally the next day. If you are looking for a company that can supply 'the full package' then i strongly recommend Nova Chrome.
Paul Rodgers
PRS Supplies
Proud suppliers of leading Sublimation brands
There can be quite a few things to consider when taking your first steps into Dye Sublimation. We're committed to offering quality products and service to help make the initial steps that much easier.
As proud suppliers of leading Sublimation brands such as Unisub, ChromaLuxe, & Sawgrass to name a few.
Make sure to check our What is Dye Sublimation? & Mug Printing pages for further information on this innovative process.
What is Dye Sublimation?

 A brief walkthrough of the whole process. From designing your image all the way to the finished product, all in five simple steps.
Mug Printing Guide
Our Mug Printing Guide explains what is needed to produce a quality mug, as well as information on our range of Mug Presses.