DTF – A solution to the garment decorator's dilemma.
Nova Chrome UK are proud to introduce their new Elite DTF Printer.
For those unfamiliar with the term, DTF (or Direct to Film) is a process for producing transfers that can be applied to the broadest possible range of fabrics available. The innovative technology allows full colour printing of cotton, polyester (and polycotton blends!) in any conceivable colour. The scope here is enormous – everyday garments can be decorated, but so too can heavy duty workwear, as well as lightweight sports and performance wear.
The process bridges the gap between many traditional processes – offering relatively easy production of transfers with no weeding or production of masks, but delivering long lasting results that stretch and wash in a way that compare to screen printing or sublimation. Transfers are printed on to film, with the colour being laid down, and covered with a base of white ink. This printed film is then covered with a translucent 'hot melt powder', which is then cured by heat (typically oven or heat press) at around 120°C for 3 minutes. The result is a very thin, incredibly stretchy transfer that can be applied with a firm pressure at a very short time of just 20 seconds.
Nova Chrome's solution offers a compelling package – low startup costs, a compact desktop form factor and the flexibility to produce one off and short run DTF transfers. Capable of printing roll or sheet fed media up to 30cm width, this compact system also offers in-built white recirculation to assist with maintenance. This makes it perfect for those who want to avoid the additional costs, minimum order quantities and turn-around times of outsourced production.
The Elite DTF system is available to order now, along with a range of accessories. These include inks (supplied 500ml bottles), Hot Melt Powder (foil sealed 1kg bags) and cold peel films in sheet and roll forms.
Craft Express Elite DTF Printer
The core of the process is the Craft Express Elite DTF printer, producing transfers by printing CMYK on DTF film, and overlaying white ink to provide a base for the hot melt powder to adhere to – and so that the coloured design can be seen in full colour on dark coloured textiles.
The printer features white ink agitation at the tank level, as well a full white recirculation along the ink lines to help keep ink settling and potential clogs to a minimum. Connection is via USB, and the system requires a Windows 10/11 based PC to run in full. Please be aware that at this time, MacOS and mobile operating systems are not supported.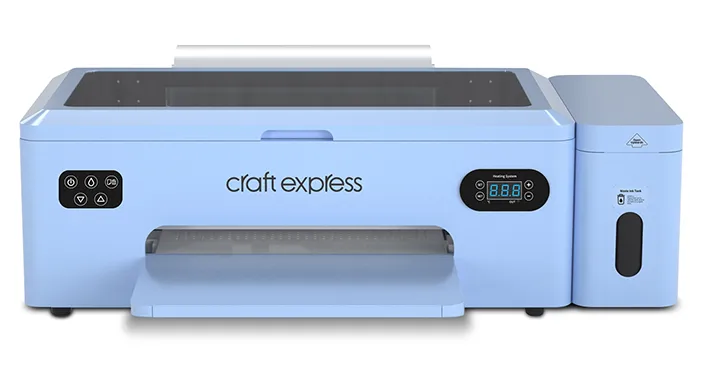 Supplied with the system is a fully licensed copy of AcroRIP Desktop DTF edition. This lightweight, yet powerful solution drives the Elite DTF printer, and offers the ability to nest and gang jobs in sheet or roll form, as well as scale, rotate and mirror output as required. Ink limits can be set, along with custom ICC Profiles.
Generally, images that allow for transparency (such as png, webp, psd and tiff) are supported, and can simply be added to the RIP layout. This software is very easy to use and offers a simple interface (the same familiar interface as previous AcroRip versions, but loaded with more features, and fully licensed). Anyone can learn and understand how to use this RIP software very quickly. ACRORIP V11 is focused primarily on DTF PRINTING functionality but is also compatible with many Epson-based DTG and UV Printers.
Works with Windows 10 / 11.
Features:
Multi-image handling
One pass white and color
Easy and bug-free installation
Custom channel settings (change channels on demand and based on your custom requirements)
Latest/Updated Drivers
Improved Color Expressions ( whites and colors are more vivid)
Custom Channel Substitution (For example, if yellow is clogged, use a WHITE CHANNEL and use YELLOW INK in that CHANNEL and Close off the original Yellow channel
Proprietary RIP BOOST setting to increase the print speed of the popular Epson L1800 printer by up to 40% on demand*
Paper Cut function (works with 4800/4880/4900/P5000/7800/7880)
Roll Printing on Epson L1800, P400/P600/P800 and other models
Epson Surecolor P700, P900 compatibility included with desktopDTF version (BETA)
Epson Ecotank L8050, L18050 compatibility included with desktopDTF version (BETA)